When creating a Review Submission form you have the option to create Social Links. The plugin asks for the Name and URL of each link you want to add. In most cases, you can just link to your page on the site. There are a couple of exceptions noted below.
Google: https://support.google.com/business/answer/7035772?hl=en
Facebook: Add /reviews/ on to the end of your page URL i.e. https://www.facebook.com/ljapps33/ becomes https://www.facebook.com/ljapps33/reviews/
So in the plugin I would have this….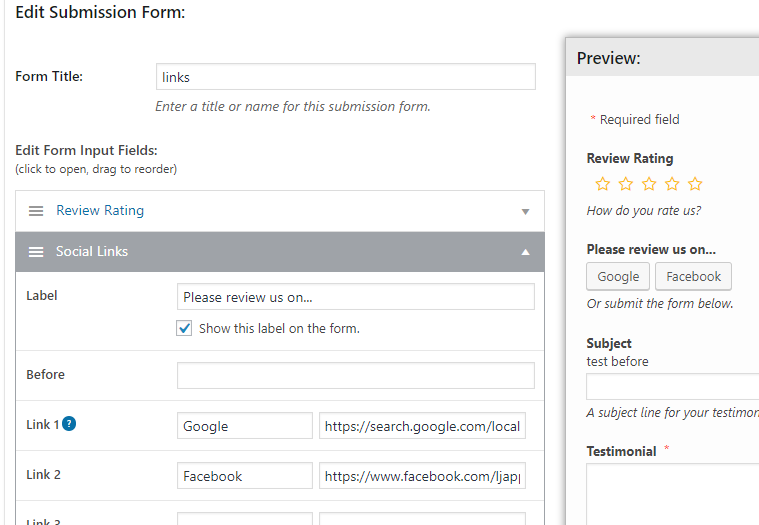 There is a "Display" option that will let you pick between a button with text or the Social Icon.
Here are the values that you can use for the Site Names and the plugin will find the logo:
    Airbnb
    AliExpress
    AlternativeTo
    Amazon
    AngiesList
    Apartmentratings
    Apartments
    AppleAppstore
    Avvo
    BBB
    Bookatable
    Booking
    Capterra
    CarGurus
    Cars
    Citysearch
    ClassPass
    ConsumerAffairs
    CreditKarma
    CustomerLobby
    DealerRater
    Ebay
    Edmunds
    Etsy
    Expedia
    Facebook
    FindLaw
    Foursquare
    Freemius
    G2Crowd
    Gartner
    GetYourGuide
    Glassdoor
    Google
    GooglePlay
    GoogleShopping
    GreatSchools
    Healthgrades
    HomeAdvisor
    HomeAway
    Homestars
    Hostelworld
    Hotels
    HousecallPro
    Houzz
    HungerStation
    Indeed
    Influenster
    InsiderPages
    ITCentralStation
    iTunes
    Jet
    Lawyers
    LendingTree
    Martindale
    Newegg
    Nextdoor
    Niche
    OpenRice
    Opentable
    ProductHunt
    ProductReview
    Qualitelis
    RateMDs
    Realtor
    ReserveOut
    Reviews.io
    Siftery
    Sitejabber
    SoftwareAdvice
    Talabat
    TheKnot
    Thumbtack
    TripAdvisor
    Trulia
    TrustedShops
    Trustpilot
    TrustRadius
    Twitter
    Vitals
    VRBO
    Walmart
    WeddingWire
    WooCommerce
    Yell
    YellowPages
    Yelp
    Zillow
    ZocDoc
    Zomato
    Agoda
With version 11.1.1 and later you can now enter a custom Icon and Link not listed. You would enter the Name of the site, the URL to link to, and then the URL to the image to display. Like so…